With a colorful cast of new gear to show off, ETC lit up this year's NAB tradeshow with the ETC-MP Rolling Rack, Source 4WRD™ LED, mobile lighting controls, the ColorSource™ family.
ETC now offers a version of the 96-way Sensor® touring rack that's made with television and film studios in mind. The ETC-MP Rolling Rack packs 96 circuits into a compact footprint the size of a typical 48-way rack, and boasts a simplified circuit configuration. A CEM3 controller and ThruPower modules let you switch from a dimmer to a constant circuit at the touch of a button.
Save time and gain efficiency with the Source 4WRD™ LED. You can transform your tungsten Source Four® fixtures into white-light LEDs in just seconds by swapping out the burner assembly with a Source 4WRD. Its power draw is only 155 watts, but it's just as bright as a 575-watt extended-life HPL lamp. You can save 70 percent of the power and still get the same superior optics and camera-worthy light as a traditional Source Four.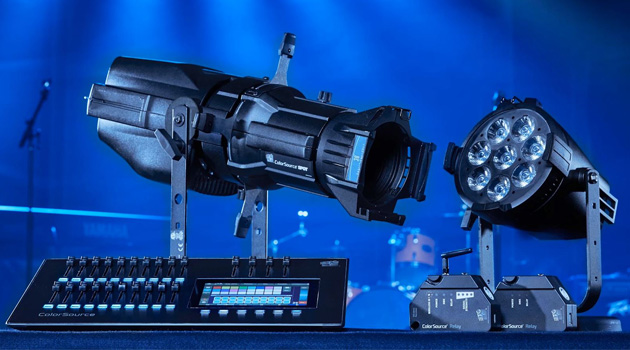 Industry leaders ETC recognized the need for an economical feature rich front end to address the multi-parameter lighting fixtures found in most modern day production environments and the ColorSource family of controllers was born.
ColorSource consoles streamline the patching process by doing most of the work. The consoles offer comprehensive RDM (remote device management) support , not found in most lighting controllers at this price point. When a console powers on, it immediately identifies any intelligent lights in the rig and populates their profiles in Patch.  The fixtures can then be assigned to channels using the touchscreen and dragged into position on the onscreen stage map for easy direct-selection and programming. ColorSource desks support the color-mixing systems of all mainstream fixtures, including the extended gamut of ETC's seven-color Source Four LED and Desire luminaires. ColorSource consoles touchscreen interfaces include swatches of preprogrammed, attractive colors and a color wheel for quick, full-spectrum selection.
An AV version of the console is offered with HDMI and audio output, so that you can run sound cues, images, interactive Video Toy effects, sound-to-light effects and lighting cues from the same device.
ETC Source 4 Series 2 LED introduces a whole new level of LED lighting that can be used across a wide range of production applications.
ETC's x7 Color System uses an array seven colors to create evocative color mixes. The Source Four LED Series 2 Lustr array is provided with a lime-green LED emitter, an evolution from the Series1 with the 7th color being white.  Lime green increases lumen output in open white and lighter tints to make them brighter and livelier.  The lime also enriches color-rendering by addressing the spectrum between the red and blue extremes to fills the gaps found in a standard RGBA array.
Series 2 is also available in Daylight HD and Tungsten HD were designed for the studio and other applications where quality lighting is a must. The Daylight HD array provides  4000k to 6500K variable-white light , and the Tungsten HD array creates warm (2700 to 4500K), adjustable-white light that mimics the performance of tungsten fixtures. CT and Tint can be adjusted to illuminate individual skin tones without the use of filters. Both arrays offer flicker-free operation – even at high shutter speeds and high lumen output for the brightest light in their respective color-temperature ranges.
Series 2 LED can be used with existing S4 lens barrels, but also with the exciting compliment of additional fittings including Fresnel lens adapter, (Asymmetrical) cyc adapter, or the EDLT (Enhanced Definition) range of Lens tubes with more precise optics, increased efficiency and crystal clear projection
Source4 Mini offers superior optics, precise image projection, shutter cuts and a bright, even field – in a fixture that's just one-third the size of a traditional Source Four. Only nine inches long, and available in both tungsten (3000K) and LED (3000K, Gallery high CRI 3000K, 4000K or 5000K) and in four field angles: 19°, 26°, 36° and 50.
The Source Four Mini is perfect for set dressing, image projection and highlighting in the studio or in the field.  Available in track, canopy or portable hanging mounts.  The portable unit typically comes with a mini-clamp, but Barbizon has developed a c-clamp form mounting on a standard studio grid – please inquire!