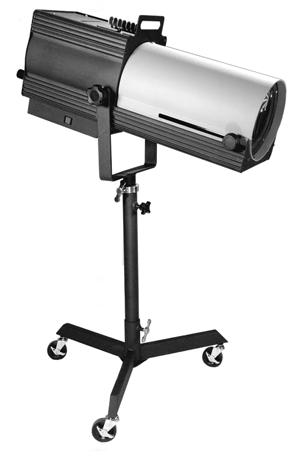 Lycian has released a new compact follow spot called the Super Clubspot 7.5. Designed to use a 750W Tungsten lamp, this follow spot is priced to fulfill the smaller markets such as schools, clubs, and black box theatres. While it costs less than their current higher end follow spots, the Super Clubspot still packs a ton of features such as a 6 color boomerang, horizontal shutters, Iris, Gobo Slot, and Fader.
To complete with the European market, Lycian has now released a streamlined new family of follow spots based off of one chassis. Called the Zot; the family includes the Zot 5, 7, 12, and 12HP. Other than the 12HP which has an external ballast, the rest of the line can plug into regular 120V outlet power. With simple streamlined controls, and by making use of economy of scale, these units cost significantly less than equivalent follow spots on the market that have the same output.
Remember all Lycian follow spots are made with pride in the USA and ship out of their NY facility.